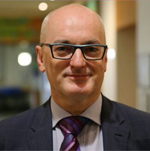 Interantional Speaker

Prof. MARK COOK - Melbourne

"Professor Mark Cook is currently Chair of Medicine at St Vincent's Hospital. Professor Cook specialises in the treatment of epilepsy and his previous role was also at St Vincent's as Professor and Director of Neurology. He is recognized internationally for his expertise in epilepsy management, particularly imaging and surgical planning.

After completing specialist training in Melbourne, he undertook an MD thesis while working as Brain Research Fellow at Queen Square, London. He retumed to St. Vincent's Hospital, Melbourne to continue his interest in neuroimaging in epilepsy.

Under his directorship, both the research and clinical components of the Neurology Department at St Vincent's have been significantly enlarged. Currently one of the largest units in Australia for the surgical treatment of epilepsy, this was a direct extension of work he began in London, where he developed techniques for the accurate measurement of hippocampal volumes, and established their position in non-invasive assessment of surgical candidates. More recently his interests have included experimental models of epilepsy and seizure prediction.

He is a Fellow of the Royal College of Physicians of London, 2015 and a Fellow of the Royal Australasian College of Physicians, 1991.

He has over 250 Publications in peer reviewed journals, several chapters in books and presentations at international conferences.